SmartDate Series
For over a decade, Markem-Imaje has pioneered the thermal transfer overprinter. Markem-Imaje comprehensive SmartDate® Series of coders provides the most reliable high quality codes on flow-wrappers, bags, tray seals, pouches, sachets, vacuum packs or labels.
SmartDate X40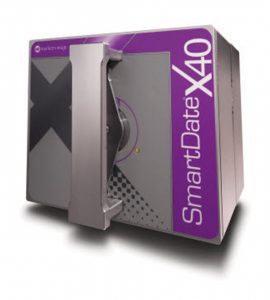 The SmartDate®  X40 represents a transparent, advanced coding solution including long term cost control, planet conscious design, greater uptime and increased performance on the line even in harsh environmental conditions.
New standard 1100 m ribbon reduces changeovers and improves cost per print.
Patented ribbon saving features help to minimise ribbon waste.
Excellent availability ratio of up to 99.6%* without assistance due to new standard 1100 m ribbon.
IP protection option for harsh environmental conditions and frequent pressurised water cleaning.
IP protection kit for installed SmartDate X40.
Print speeds up to 600 mm/s.
High quality 300 dpi resolution.
Up to 50% reduction in power consumption.
Up to 20% less ribbon waste with new standard ribbon design.
SmartDate X60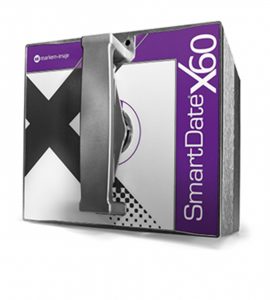 The SmartDate® X60/128 thermal transfer printer delivers consistent high quality coding in wide formats up to 128 mm, ideal for nutritional labels, ingredients and multi-pack applications. Proven SmartDate technology ensures efficient printing at high speeds up to 700 mm per second.
Wide print area 128 mm x 150 mm maximum to print large messages at 2x the variable print format capacity, eliminating need for additional printers.
Ability to print multiple codes on multi-lane packaging lines.
Firmware enhancements include dead dot detection and image adjustment for fast, easy changes directly from simple USB-connectable touch screen user interface.
900 meter ribbon available in select grades for improved uptime.
Robust design with no wear parts, requiring zero preventive maintenance.
IP protection kit for installed SmartDate X60.