Preloved Linerless Applicators
---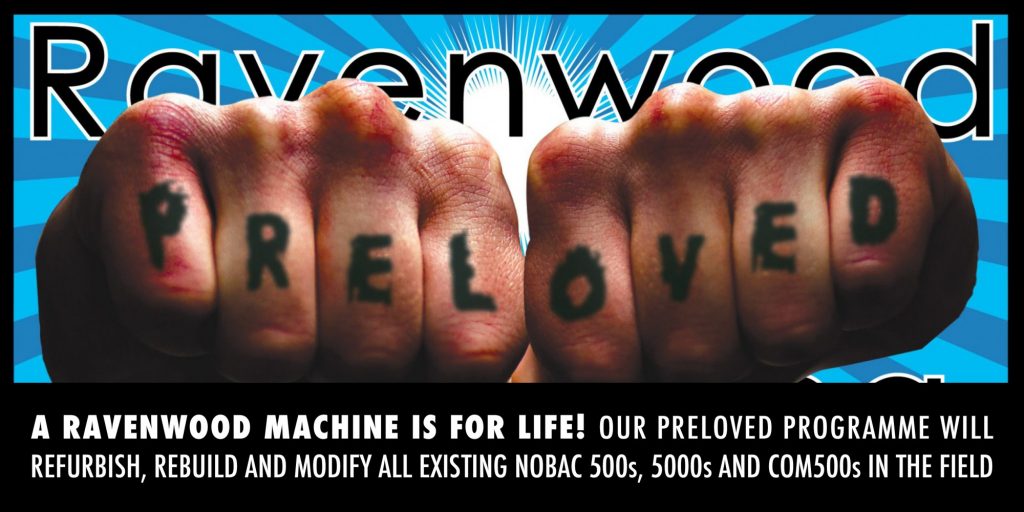 Our Preloved programme undertakes machinery work from complete set up to full rebuild, as well as refurbishments and conversions on its full range of linerless applicators. This programme covers all machinery that fall under the Nobac 500, 5000 and Com 500 ranges. 
A Ravenwood machine will last a lifetime. 
Our factory in Norwich has been building Nobac sleevers since 2004. The very first machine built in 2004, has now been returned to us. We plan on keeping it intact as it will shortly be taking pride of place in our machine demo room.
We are passionate about Planet Earth and reuse and recycle as many machine components as possible. We also take measures to dispose of what little waste we have, in line with current industry guidelines.
WE REUSE AND AND RECYCLE THE FOLLOWING MACHINE COMPONENTS
metal work
fixings
bearings
electrical motors (in good working order)
packaging that new parts are supplied in
WEEE Directive
Faulty electrical motors and associated components.
NEW REPLACEMENT PARTS
Machined and manufactured in the UK. Shipped out from Ravenwood HQ.
To discuss your requirements further, get in touch
We Buy Any Food Machinery purchases used and redundant industrial food machinery, and packaging equipment. This includes our Nobac range of linerless applicators. All machinery is exported to Holland and not resold in the UK.
We Buy Any Food Machinery has a global network of purchasers waiting to buy your equipment. Visit the We Buy Any Food Machinery website and get in touch with Karl Johal for further information.