Our work with linerless experts Ravenwood means not only print quality and delivery are reliable – application is seamless too.
We're pleased to report that our latest expansion into Linerless Labelling is well and truly alive and kicking!
Linerless has received a very encouraging response thus far, and is carefully looked after by ProPrint Sales Director Graham Bonus along with our Linerless Sales Manager Andy Clark.
Andy offers 20 years print industry experience, with 5 years specifically dedicated to the efficient production of linerless labelling for MPH Fulfillment.
Our brand new Com500 coating unit along with another state-of-the-art Edale flexo printing press (offering 10 colours) were both installed in May this year.  They have been fully up and running, printing, coating and curing successfully.
We are currently watching our customer base grow week by week and are holding talks with several retailers on new uses for Linerless Labelling.
The ProPrint Group family has also grown, with a total of 101 skilled and valued members of staff now working across both sites.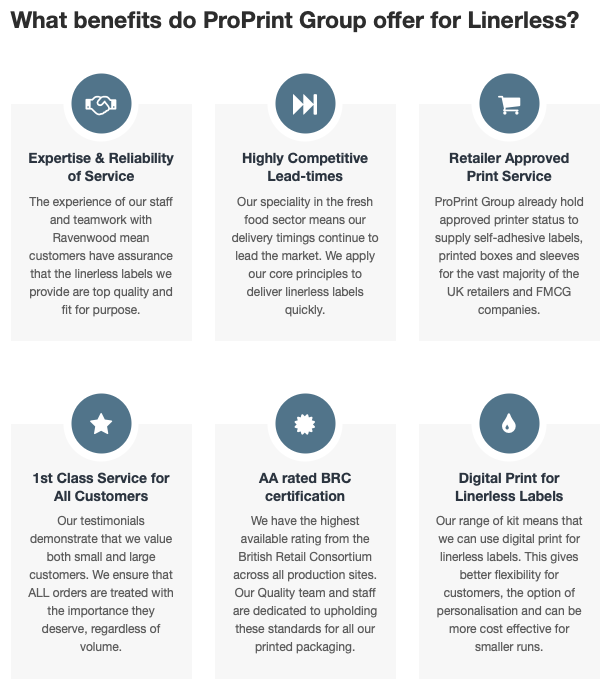 Linerless Labels –  Sustainable & Efficient
Sustainability is the key topic for the print and packaging industry. When the opportunity arose to offer an environmentally friendly packaging solution, ProPrint was of course keen to invest in such growth.
We are enthusiastic about promoting the green credentials of linerless labelling – it reduces landfill by up to 30% and also helps to reduce carbon footprint.
With the correct expertise and knowledge in our team as well as our partnership with Ravenwood Packaging, we knew our production infrastructure was already well aligned to successfully produce Linerless labelling.
Many of our existing customer base are now able to take advantage of this solution which offers faster, safer and tidier label application, as well as reducing costs in some instances.
"ProPrint is excited to be working with Ravenwood, keeping to the strict code of ethics for producing faultless linerless labels, as we become official members of the 'Circle of Linerless' – Graham Bonus, ProPrint Sales Director
"We're delighted to have ProPrint Group on board with our linerless technology" – Paul Beamish, MD of Ravenwood
To find out more and get in touch, contact ProPrint.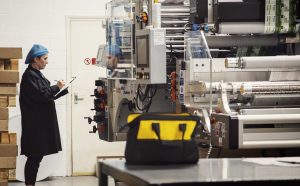 ProPrint Quality Manager Samantha Denny, carrying out an assessment during installation of the Ravenwood Com500 Coater…