A great linerless success story for all parties involved. Ravenwood was approached by the UK's fastest growing food retailer and its convenience food producer, for tackling a unique food to go packaging concept. This project champions sustainable packaging and 100% kerbside recyclability across its nutritionist approved range of ready meals. A climate conscious combination. 
The new fresh ready meal range which boasts five different options, is prepared in two steps and ready to eat in just three minutes. Options include vegan and non-vegan meals for lively lunches and speedy suppers.
THE CHALLENGE
The retailer and its producer approached Ravenwood to tackle a double tray ready meal linerless labelling project. This unique packaging concept is the first of its kind in the ready meal sector. Heatable food features to the top tray and salad to the base.
Labelling two trays is a challenge in itself but these trays are also different sizes. Ravenwood needed to ensure that the trays, when positioned together, would be rigid and without movement, for accurate label application on the Nobac 5000 applicator. Sloppy label application can result in labels having to be adjusted by hand and this can result in significant downtime. Ravenwood also needed to ensure that the products, once labelled, would remain intact, withstanding travelling to supermarket for clean presentation on shelf.
The final hurdle was the recess located to the larger base tray. Normally food trays are flush with the edge, but this wasn't the case. Subsequently, Ravenwood's keyline designer had to make further allowances when drawing up the label template.
THE SOLUTION
The Trays
The packaging consists of two trays and features heatable food to the top and a fresh salad to the base.
Both trays of different sizes made from FSC sustainably sourced materials.
Trays are made from natural kraft and rPET anti-mist lids.
The trays 'slot' together on top of each other with the larger tray to the base.
Base tray is manufactured with a recess (see image below).
Both base and lid are 100% kerbside recyclable.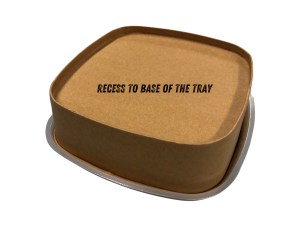 Modification to the Tray
The lid of the base tray (see image below) had to be modified so that the smaller tray could sit on top without moving. As you can see, the lid was altered and now features a raised section that fits neatly into the base of the smaller top tray. This slight adjustment now allows the trays to slot together for improved sturdiness for secure labelling and display on supermarket shelves.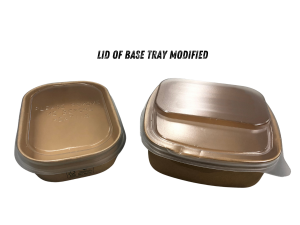 The linerless label alone, cannot hold these two trays together.
The Label
The food retailer decided to appoint one of Ravenwood's UK linerless printers, Reflex Labels, for the design and production of the label. 
After a series of trials, an oversized d-wrap linerless label was given the go ahead. Ravenwood's keyline designer then designed the label for application across both trays. Five vibrant designs were then produced by Reflex Labels.
Linerless is unique and features no backing paper, unlike its self-adhesive counterparts. Subsequently, there is no need to dispose of the label liner. Current disposal methods include burying the liner in landfill, liner recycling programmes and liner incineration. All of these options are costly – both to the pocket and the planet.
The Label Adhesive
Pressen 4301 was recommended as this is a tackier adhesive, generally suited to applications where there is less surface print area. With the double tray concept, it was felt that this adhesive would be perfectly suited for increased adhesion and improved application across both trays.
The Linerless Applicator Machine
Ravenwood supplied two Nobac 5000 linerless applicators with speeds of 50ppm achievable.
The build process has a low environmental impact with over 90% of the sleever's weight produced in the UK. All components are machined on site at Ravenwood's Norwich factory or sourced within a 4 mile radius. Once built, the 5000 boasts a very modest footprint at just 1.5 metres in width.  The applicator is extremely versatile and user friendly:
Modular construction allows bolt-on or off, twin-head option for non-stop operation.
Independent driven belt transfer system for easier set up, for different glue line positions.
Label reel braking system provides advanced reel control especially on different substrates, such as PP or thicker boards.
Optional motor adjustment.
Capable of labelling fixed weight products or linking to weigh-scales for variable-weight or check-weight products.
Optional thermal inkjet coding for the edge of cardboard trays.
Utilises thin board sleeves with various adhesives optimised for specific products.
Application speeds can reach 150ppm (dependent on tray and product).
Labels can be supplied in a range of weights and materials.
Many label formats including top labelling, die cut and shaped.
Ravenwood has also now launched the Nobac 5000 Auto. The 5000 Auto is a customer optional addition that automates switching between products, pack sizes and label size, thanks to its motorised adjustment of top lay belts, infeed guides and height adjustment.
SUCCESS STORY
The entire project, from initial enquiry to products landing on shelf, took just 6 months to complete. Ravenwood and its printer, Reflex Group, worked in synergy for meeting this timescale.
The new ready meal range and innovative double tray concept has ticked just about every box possible for a food retailer. With the combination of nutritionist approved foods, sustainably sourced packaging materials, 100% kerbside recyclability, the project has all the ingredients for a great climate conscious success story. Most importantly, the range has also been very well received by the retailer's customers.
The value of the UK food to go sector is expected to reach £23bn by 2025, driven by expansion, new product development and growth in channels such as delivery, according to Lumina Intelligence. Ravenwood is seeing a surge in linerless enquiries from this sector.
For further information, contact Natalie Bell on +44(0)1284 749144.