Ravenwood's Nobac 'Stacker' has been developed further with the option of integrating a Viper Inkjet coder. With the coder, variable data can be printed for additional 

food label information

including; best before dates, product weight, cost and marketing mechanics. This information can be printed on a reel of Ravenwood linerless labels, prior to the Stacker, cutting and stacking the labels.
What is a Stacker? 
The Stacker is a linerless label stacking machine that offers the perfect solution for hand applying low volume linerless labels. A reel of linerless labels is mounted within the machine and then run to cut and stack labels in 'post-it note' style format. The machine can cut up to 100 labels per minute to a stacked height of 140mm. The labels are then hand applied as and when needed. The machine is very compact at just under one metre in width and is extremely user-friendly with little training required for safe operation.
How does the Viper inket enhance the Stacker? 
By retrofitting the Viper, the Stacker offers enhanced flexibility as well as saving on time and cost. As mentioned, additional food label information such as best before dates, product weight, cost and promotional mechanics can be added before the labels are cut. Subsequently, there is no longer a need for hand applying multiple self-adhesive labels and the machinery needed to create them. All additional information can be simply entered into the Viper 'user interface' and tailored in line with a particular product.
The Viper is a class leading thermal inkjet coder combining high performance and speed with extreme reliability, accuracy with little maintenance requirements. The only replacement part is the HP inkjet cartridge. Cartridges are used instead of ribbon, so avoiding downtime and cost for ribbon breaks. Suitable for printing on a range of porous and non-porous materials with linerless materials available up to 300gsm. The coder also boasts fast, consistent, trouble free printing with excellent code clarity.
What kind of organisations does the Stacker appeal to?
The Stacker is suited to a diverse range of sectors and product applications, but on the whole, it provides the ideal solution for smaller, 'cottage' style businesses that want to opt for a greener type of labelling. Being small and independent, typical label runs are of a low volume and are largely dependent on supply and demand. The Stacker is the perfect 'entry level', 'manual' linerless labelling machine for hand application. Should volume and the need for speed increase, then progressing to and investing in a Nobac 5000 automatic linerless applicator would be next steps. The 5000 automatically applies labels to packs with speeds up to 150ppm. A diverse range of machine variants are available, dependent on product type and specification.
The Stacker is also a great tool for research and development. When a food brand or packaging specialist approaches a Ravenwood linerless printer with a particular label / pack project, the printer can showcase the labels at the design stage. Mock packs can be created for displaying how the label and tray will look, before going ahead with the final print run. And if the customer just wants some labels cut and stacked, then the printer can provide this as a service as well.
View the Stacker product pages here. See further information on the Viper Plus Coder. To find out more, contact Marketing on +44(0)1284 749144 or why not SIGN UP TO RECEIVE NEWS!
By integrating the Viper, additional food label information such as best before dates, product weight, cost and promotional mechanics can be added before the labels are cut.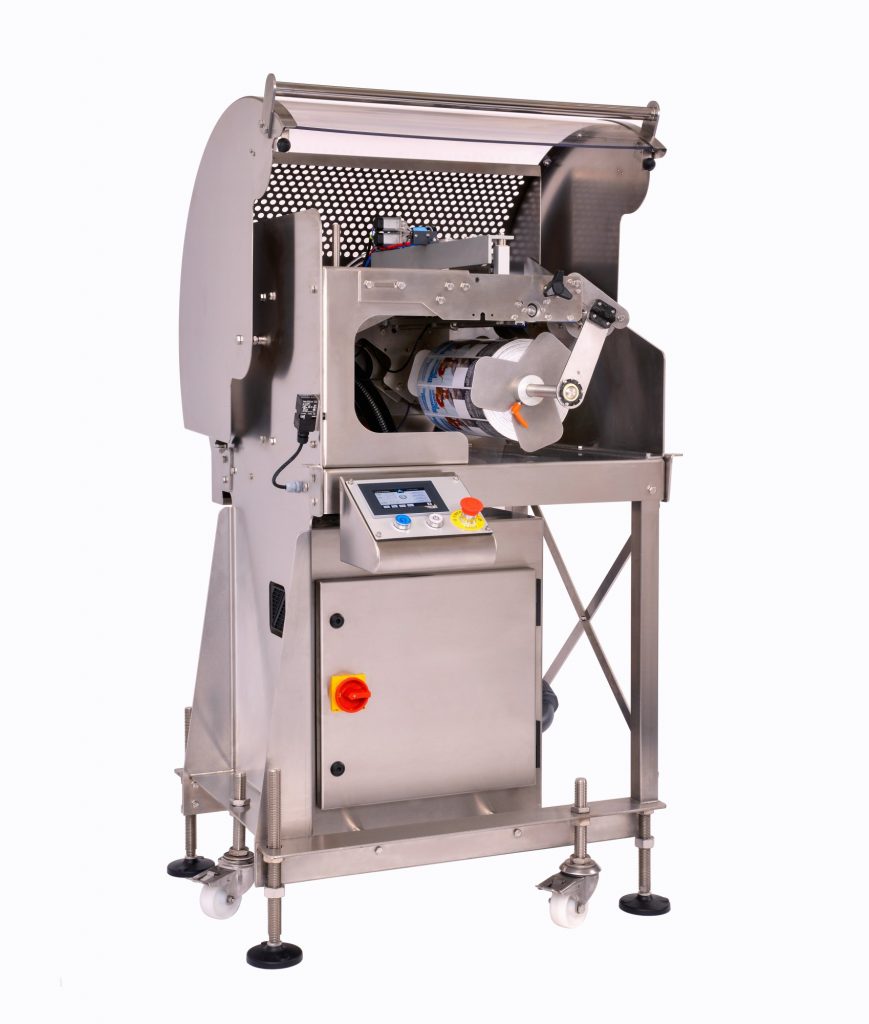 The Nobac Stacker