Creative sustainable food packaging is a craze that is set to gain momentum in the years ahead as more and more companies are going all out to be 'seen as green'.
According to Innova Market Insights, plant based foods and clear holistic labels are also set to rule, driven by our growing concerns for the environment and personal well-being.
Educate, Entertain and Engage your Audience
An emerging theme is the consensus that packaging is the mechanism to communicate sustainability to consumers and as a result to ultimately change their behaviour. As the mantra goes, 'Reduce, Reuse, Recyle' and by marketing products in an eco-friendly and creative way is helping consumers jump aboard the sustainability train.  Green labels are obviously the first steps in communication and Ravenwood's linerless labels tick all boxes where sustainability is concerned. And it's not only about sustainability – informing and engaging your target audience is crucial. Our labels provide brand owners with more space to speak to their customers – double the space in fact! Due to the peelable adhesive quality of the glue lines means that brand owners have the back of the label to feature tips on health, recipes, promotions, information on food safety and much more. Information displayed on your labels plays a big part in driving sales and so encouraging repeat purchase. Why not read our recent blog on '10 Reasons to Choose Linerless Labels'.
'Green Supreme' 
So with your labels in check, sustainable food packaging should then follow suit. Pioneering drinks brand, Coca Cola tackled product waste through developing a PET bottle which is completely made of plants.  Sustainable food packaging is evolving and edible food packaging could also become the norm. Ever since Willy Wonka bit into his teacup in the 'Everything Edible Room', what was seen as far fetched could now actually become reality.  Many brands are now embracing these trends as the quest for 'Green Supreme' builds. In practice, this awareness means factoring sustainability into all packaging projects, in the same way that cost, usability, aesthetics and manufacturability are built in. It's encouraging though that UK waste went down last year by 2.7% and the rate of recycling increased by 39%. However, the UK still churns out 23 million tonnes of waste each year – which equates to an immense one tonne per household. And packaging makes up a reported 30% of that figure. If we are to hit the Government's 'Zero Waste' target much is still to be done and the obvious communication tools are both the packaging and messages relayed by green labels.
Creative Sustainable Food Packaging
So with each year that passes, more companies are tinkering with different types of materials to create the very coolest sustainable food packaging designs.  So to round things up we've found some, using principles that embrace creativity, innovation and sustainability.
Happy Eggs compressed hay egg cartons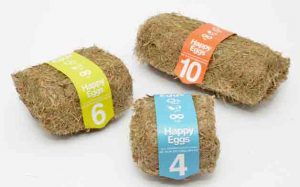 Dr Oetkers's edible cake cases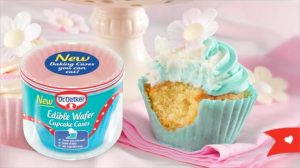 Lavazza edible cookie coffee cup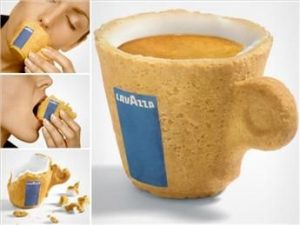 Sea food packaging using banana leaves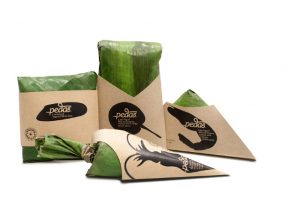 Sugarcane food containers and tableware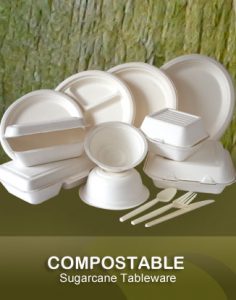 Contact us here or call us on 01284 749144 to find out more.